In Memory
Robert Townsend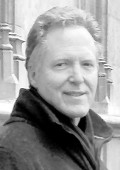 Robert Hardie-Townsend, 55, passed away suddenly on Saturday, July 31, 2010, at his Claremont home with his wife, Sandy, by his side.
Robert was born on January 15, 1955, in Los Angeles, California. He attended schools in South Pasadena and earned a bachelor of arts degree and a master of arts degree from Azusa Pacific University in Azusa, California. He obtained a Certified Property Manager (CPM) designation from the Institute of Real Estate Management and a real estate broker license from the State of California. He lived and worked in the Seattle, Washington area before returning to Southern California.
Robert had a successful career in property management and real estate banking. Robert deeply connected with those who entered his life. An intuitive man, he had keen insight into others. He was a person of deep faith, which sustained him through his life. Family, friends, and co-workers felt that Robert was a man of his word who would never let them down. His colleagues have praised him for his leadership and integrity.
Robert is survived by his wife, Sandy, and three children from a previous marriage to Mary Townsend: daughter Sara Elizabeth Townsend, son Scott Robert Townsend, and stepson Brian Christopher Fritch. He is also survived by sisters Margie (Lee) Porter '66, Jenny (John) Francis '68, and Ronni Skandilan '71, and his nieces and nephews, and incredible friends.
Robert loved being in the outdoors. He married Sandy in June 2008 on a bluff overlooking the ocean in Cambria, a spot they returned to often. He volunteered as a ranger in the Claremont Wilderness Park and could often be found riding his bike or hiking the trails in the surrounding mountains. Family and friends are grieving this unexpected loss. Robert will be deeply missed and remembered forever by those whose lives he touched.
A celebration of his life will be held Saturday, August 14, at 4 p.m. at Rancho Santa Ana Botanic Garden, 1500 N. College Ave., Claremont, Ca 91711 ( http://rsabg.org/). In lieu of flowers, remembrance donations may be made to Adopt-a-Dolphin, National Park Foundation, or Best Friends Animal Society.
Ventura County Star, August 8, 2010