South Pasadena

High School




Class of 1972
This is the official private site of the class of 1972
This site is free to join! If you attended during 7th-12th grade, did not graduate or moved away, you are also welcome here!
ANNOUNCEMENTS
Today's date: September 23, 2016
Here's the latest update on Diane Freeman Sardi:
Please join us to celebrate and remember the life of Diane Freeman Sardi. Dress is casual, preferably Aloha style. Bring flower petals to place in a community bowl, to be blessed, and the family will spread the petals in the ocean. If you are unable to attend and wish to send a video (preferred), or email message, we will share it at the memorial. We are considering making a video of all the memories for the family. If anyone has questions please email Sharon Lucas at sharon.lucas@twc.com or call 949-285-6558
WHEN: Sunday October 2, 2016, 2-4 PM
WHERE: Calvary Presbyterian Church, in the South Parlor, 1050 Fremont Ave., South Pasadena
91030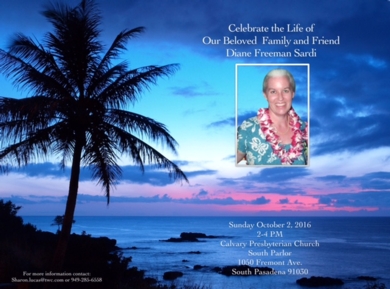 ---
2012 Reunion Photos
Watch Them Again!
790 Reunion Photos & Video
(sorry some links to photos may be broken)
---
TO SEE OTHER PHOTOS CLICK ON
40-YEAR REUNION PHOTOS on left menu
---
CLICK HERE
: to visit friends at other class years!
(SPHSAA.org is our sister 'All-Years' website)
---
South Pasadena - Our Town Today
Related websites - click on the links below:
1) South Pasadena High School
2) SPHS Student Newspaper TigerOnline
3) SPHS Booster Club
4) South Pasadena Educational Foundation
5) South Pasadena Unified School District
6) City of South Pasadena
7) South Pasadena Public Library
8) South Pasadena Chamber of Commerce