In Memory
Jill Katherine Williams (Cooper)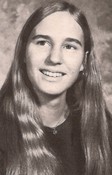 Jill Katherine Cooper, (56) died July 1, 2010 of cancer at her home in Carlsbad, California surrounded by her family and beloved dog Arlo. Born in Pasadena, she was raised in South Pasadena and attended South Pasadena High School, San Diego State, and UCSB.
After marrying Chris in 1976, she worked at Bank of America, retiring as a vice-president to raise her family. They resided in Pasadena and Claremont until moving to Carlsbad, CA. in 2002. Jill loved gardening, beach walking, playing guitar and singing, and was a lively competitor at hearts, gin rummy, and on the tennis court. Most of all, she cherished her family and friends and the time spent with them.
She is survived by her husband Chris; daughter Katie and son Kevin; her mother Gerrianne; and sister Jennifer. She is predeceased by her father Jack Williams.
Pasadena Star News, July 18, 2010
*************
I met Jill when we were in high school and we managed to stay in touch over all the years and phases of our lives--college, jobs, marriage, children, taking care of elderly parents, celebrations, and crisis. I am very saddened by this tragic disease that has taken her from us. She was an upbeat and optimistic person who loved to laugh and her comedy was infectious. I will miss her always.
Janet Woodward '71

************